As well as providing the tastiest hog roast catering in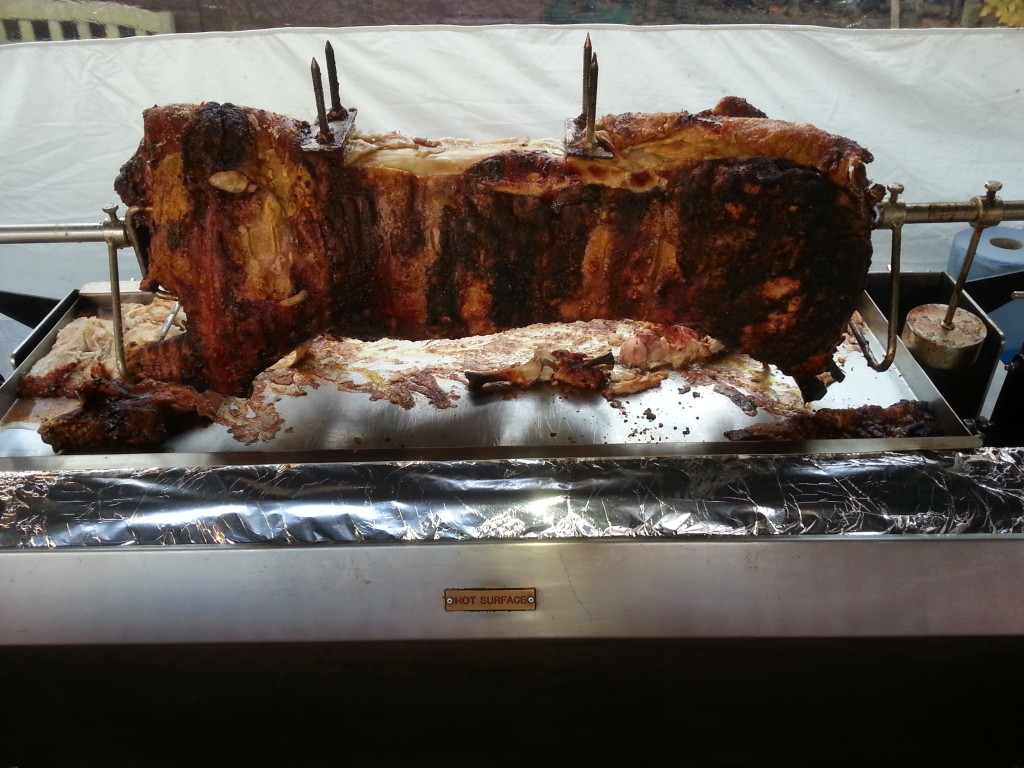 London and spit roasts in Berkshire, Herts Hog Roasts are well known for hiring our range of hog roast machines for private party catering and corporate event catering .
Whether you are thinking of having a party to celebrate an up and coming Birthday or anniversary in your own home and relish the thought of wowing your guests with your own cheffing skills or simply have a smaller budget, then our DIY hog roast is the package for you.  Or it may be you have your own catering business and have been asked to provide a hog roast in Staines and need a quality hog roast machine, then Herts Hog Roasts will deliver the machine and hog if needed to your location for you to cook, carve and serve your clients.
A DIY hog roast really is not as hard as you may think. Our machines are the best on the market and will give perfect results every time…. Delicious mouth watering spit roasts in Reading with the most golden crispy crackling.
We will deliver your machine with a full bottle of gas to your venue at an agreed time. We will supply you with one of our free range hogs as well which are supplied by Woods of Leverstock Green in Hemel Hempstead. They are renowned for the quality of their meat and supply many restaurants, hotels and businesses throughout Hertfordshire. If you supply your own hog, that is perfectly fine and we will just deliver the machine and gas.
There are two ways of hog roasting…. Spit roast or hog roast. Both produce the most mouth watering pork and crunchy crackling, but what is the best way. I think that could be another blog… a debate on which method is best!!
On this occasion we supplied the 65 kilo hog to Darren who was catering for a large corporate event in Slough for a fire work and bonfire party for staff and their families.
Up on arrival, Darren was given full written instructions on safe and proper use of the machine and also a very in depth demonstration of how to operate the hog roast machine. We also give good advice on carving and serving as well as a bit of health and safety advice. Hygiene rules state that the meat should have a holding temperature of 75 degrees Celsius before serving and it is little bits of extra advice and help that make Herts Hog Roasts your number one choice for hog roast catering in Bracknell.
We do try and go a little further than most and I don't just mean distance! As well as racking the hog on the spit pole and delivering to the venue, we will start the cooking process for you if times are suitable, and nine times out of ten this is fine. We salted the hog, lit the burners and the hog started slowly turning while roasting over the flames.
Darren's hog roast Slough was a huge success thanks to the help of Herts Hog Roasts and his guests were delighted with the food.
All we ask customers when hiring our DIY hog roast (as well as some kind of payment!!) is the machine and equipment is returned clean and intact.
We arrange a suitable time to collect the machine after the event…. It really is as simple as that.
Catering companies throughout Hertfordshire, Bedfordshire and Berkshire regularly hire our DIY hog roast machines. With Herts Hog Roasts, all your spit roast catering in Slough is taken care off.
Give us a call to book your DIY hog roast for next summer and wow your friends with a Hog roast they will talk about for years to come.