Hertfordshire Wedding Caterers
Herts Hog Roasts are by far the finest hog roast caters in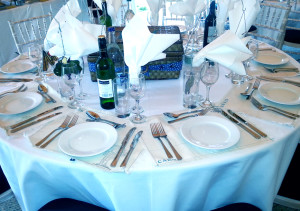 Hertfordshire with seven years of hog roast catering as well as many more years catering behind us. We continue to provide quality hog roasts in Watford and mouth watering spit roasts in Broxbourne.
All events and functions are suitable for a spit roast…. It does not always have to be a pig roast. We provide lamb roast or even turkey roast at this festive time of the year. Infact, any meat you fancy can be spit roasted and you are guaranteed the tenderest, succulent and mouth watering feast when cooked on the state of the art spit roast machines that Herts Hog Roasts supply.
Herts Hog Roast weddings are our passion and this is where we feel our love of food, flair and experience leave us head, shoulders and trotters ahead of others in hog roast wedding catering. From the moment you visit our Herts Hog Roast web site and browse our range of delicious menus you will know you have chosen the right team to work alongside you to make your day perfect.
But it is not about just getting a booking, turning up on the day and hoping for the best…. We plan and prepare for each hog roast wedding event and that starts with meeting you, introducing our selves (and hopefully you will like us and we will like you which is actually very important!!) and finding out exactly what you want from your day. Often clients enquire for a certain wedding package, but after chatting for a while it becomes very clear that they are after something entirely different and our experience can help guide you in the right direction for your hog roast wedding in Hemel Hempstead.
It's not also about us trying to up your menu to benefit our selves but quite often we actually realise the client really wants a more simple alternative hog roast wedding in Tring and we tweak the menu and service to what you actually require. This is why we insist on meeting all wedding clients prior to taking on a wedding hog roast, so we are actually getting things right from the outset.
So, the most important part of any hog roast catering in Hertfordshire is the quality of the catering, so once you have decided on one of our hog roast wedding in Berkhamsted menus, we will visit you with a selection of five or six of our tasty homemade canapés and a starter if you are looking for this option as well.
All our canapés are home made so on the day of meeting up, we will shop for fresh ingredients and prepare a platter of tasty nibbles for you to sample as we chat about the menu, schedule and service arrangements for your wedding hog roast banquet. Offering a choice of a couple of hot canapés, a few cold and of course make sure there is at least one vegetarian option but better still opt for two.
Simple canapés seems to work and we find our fillet of beef, which is cooked rare and is so moist and tender which is topped with salsa Verdi on a crisp crouton is a winner and really goes well. As do the home made parmesan shortbreads topped with honey roasted plum tomatoes, feta and black olive. More often than not, you will know within a few minutes of meeting us and listening to how we approach our hog roast events that we are your first choice for hog roast wedding catering.
We do not offer any thing we cannot cope with and will not promise the earth and then not deliver. Our approach to your most important day is to offer quality and a professional service at a reasonable cost, keep within our own limits and if we can enjoy what we are doing, it will go a long way to ensuring your special day is a success. Booking Herts Hog Roast for your wedding catering in Hertfordshire is simple.
Once you have met us and hopefully full of confidence that we can deliver, all we ask is that you return the booking form with a small deposit to secure our services. We will then keep in touch and arrange to meet up nearer the big day preferably at the venue to go through the menu, schedule and meet up with all parties concerned to ensure that all will run nice and smoothly ensuring your day is one to remember for all the right reasons.